JG: "hi. would you be able to come over to discuss changing around the girls' rooms?
ME: "of course."
upon arrival…
JG: "so AB is going to be taking over her big brother's room & B is super excited about having her own room now."
ME: "didn't you guys just spend the weekend moving W into his dorm room?"
JG: "yep & he was super excited. he is truly going to come into his own there."
ME: "oh this i am sure.
turning & looking at AB: "but the body isn't even cold yet. lol!"
AB staring at me completely puzzled.
ME: "it's when someone dies & you take something of theirs before the body goes cold.
AB: "OH!" (small giggle).
this particular client project brought back so many memories for me. rearranging my bedroom as a young girl was truly one of my favorite pastimes. i clearly loved change, yet did not appreciate this fact about myself until the last few years. i suppose i longed for certain situations to be different & this was the one i could control. we can chalk it up in therapy terms as "unsettled," but i prefer to think of it as my creative outlet in design.
of course the adults didn't recognize it outright, but i was always asked to tag long on shopping sprees to choose colors for upholstery, rugs or paint selections & even clothing. i have the ability to memorize color like you wouldn't believe. mummy would always argue with me about whether or not i was sure the color was correct. upon return each time she would be in awe that our purchase matched superbly.
i have older brothers & fully understand the event taking place at my client's home. my eldest brother, chip, had his own room in the bottom third of our split-level homes, twice. he always had his own bathroom & exterior entrance. i regarded them with such romance because he & my other brother, collin, didn't share a room as my sister, cami & I did. more importantly he was ruler over his own domain away from the watchful eye of parents.
chip's first room was painted black with posters of racquel welch & farrah fawcett adorning the walls. he would sit down there & play his guitar while i am quite certain i interrupted often. we moved to the next house by the time i was 8 & my chip didn't live with us long as it was his senior year away at school. my second brother collin quickly commandeered the lower bedroom, which meant i was granted my own room. victory at last & thus began the unquenchable thirst for decorating & redesign!
ab's brother's room before photos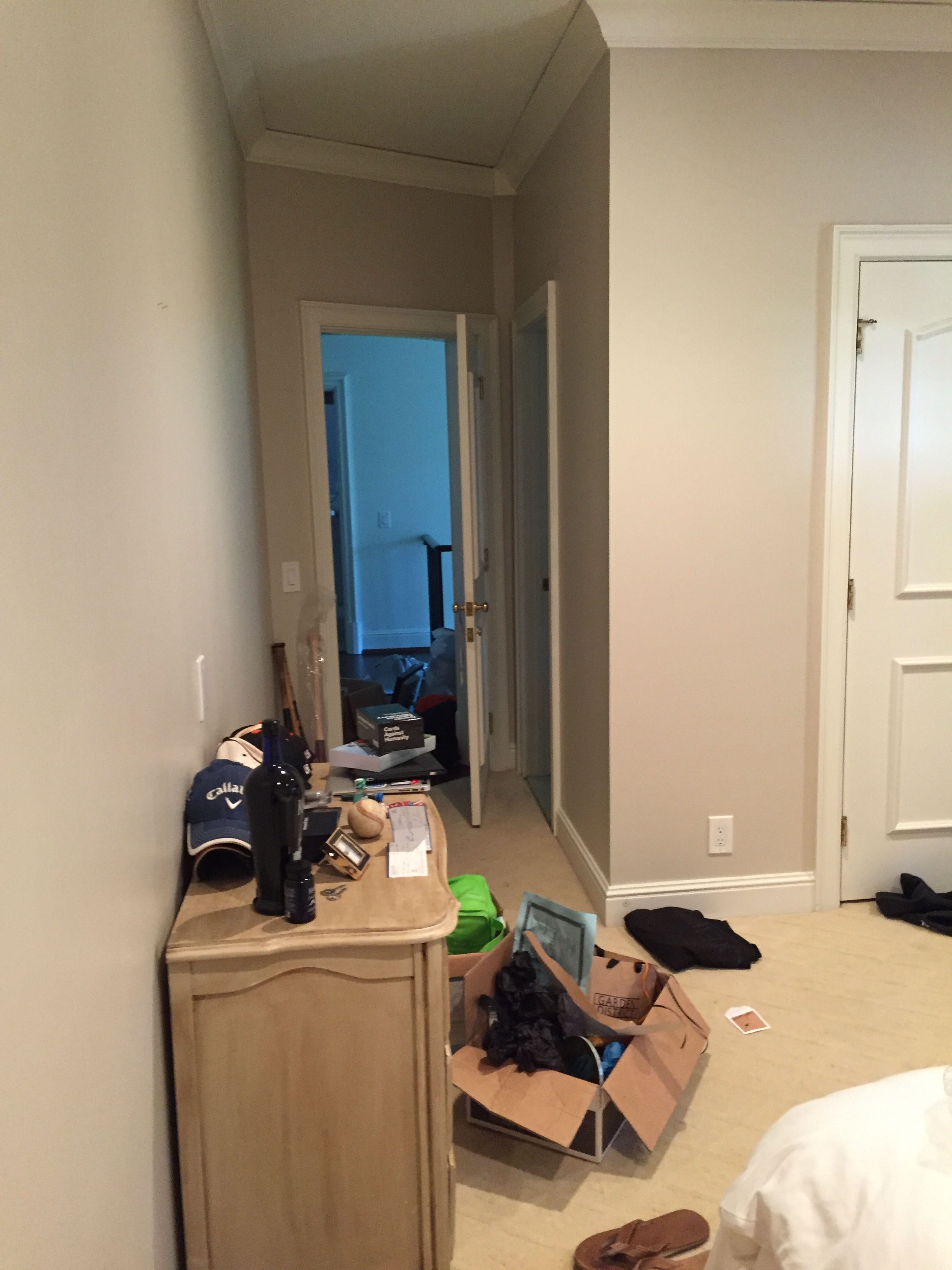 when it came to discussing with AB how she wanted her new room to look, her original idea was for a chevron back wall. full-blown honesty, of which the client is fully aware, the chevron was not my favorite idea because it's a little passé & also it would cost the client more money as it would take longer (all the taping). so i gave AB the idea for an ombre back wall. she jumped at the idea because none of her other friends have it.
i am very open about the fact i do not encourage my clients to "start all over" or run out and purchase everything brand new. there are plenty of those designer/organizers out there. i prefer to save my clients some cash & use what they have. i am hired to make my client's lives easier & less chaotic rather than add to the clutter with more "stuff." (see my previous blog about "stuffitis.")
the client suggested we keep her son's linen headboard & the other three walls the original gray color. the dresser, television & large cabinet would stay as it is a built in. we decided the side table would be painted as AB wanted a big splash of yellow somewhere in the room. there was a brief discussion in regards to keeping the very custom window covering, but AB was having none of it.
we changed out the desk, oversized chair & of course all of the linens. AB went along with her mum to purchase new linens from macy's & adorable accessories from both target & our neighborhood's favorite girlie stop, magpies: the girl shoppe. i did tell AB she was immediately hired as my assistant, as her taste is impeccable. the final styling day was one of my favorite client moments. oh & at the end of the design, AB warmed up to the idea of the custom window covering, because the aqua stipe in the gray linen matched perfectly. these victories for the mums with girls are rare…so i revel in it when i can.
ombre wall process
the ombre wall turned out better than i planned. did i mention it was the first time i had even attempted ombre painting? ha! i was so nervous, but i love a good challenge & even more so when i succeed. yay me!
closets
i didn't get to spend a lot of time with the closets because the truth is the client was perfectly capable of jumping in for clean out, which she did. below are photos of B's closet BEFORE & lower section AFTER, then AB's new closet AFTER. sometimes i forget to take the BEFORE photos. professional organizer fail.
b's room
ultimately we convinced B her room just needed a bit of freshening. new linens & swapping out her pink trimmed desk with one from an infrequently used office nook downstairs would do the trick. along with a few new accessories also from our fave girl's store, magpies, all was right with the world. of course there is the small detail of completing the sale of the loft bed you saw in the BEFORE photos. seriously if you are interested let me know so i don't let down my client. i mean she is a repeat client & thinks i am pretty neat, but this would help with my high rating.
sampling of mck's rooms over the years
about me rearranging my boudoir. it drove my mum insane. she would leave on any given day & tell me "do not rearrange anything in your room today." usually this directive was immediately ignored. so imagine if you will when I had a little girl. lordy. mckenna has had no fewer than eight home bedrooms & the additional four during college. twelve!! i got to decorate 12 bedrooms! oh joy of joys! here is a sampling of a few.
oh & back to my big brother's room. i, too, couldn't wait to take over the downstairs bedroom once he had departed… a bit of a right of passage. as children we are usually excited for our next move up to be like the big kids & to be taken seriously. perhaps we are all just in a too much of a hurry to grow up. ironically once you are here, being a grown up i mean, we are all looking for a way to get back to our childhood. luckily i have days in my career where i can pretend all i want.
the big reveal - ab's room!
i love how this room turned out, i love my clients & the jobs they bless me with each week. i adore this company i have created from scratch & it brings me great joy to work hard for others. i mean i could sit around buying into the online presence of others who do similar work to me, that some how they are more successful because they have more followers on instagram or are attending creative conferences with big brand companies. honestly, this is the least of my concerns.
i want to live in a country where i am free to run my own business, pay my fair share of taxes, raise my daughter as a single mum without harassment, date whom i choose (okay it would be nice to have date less & the one, but i digress) & do the work along side my clients where they feel accomplished & satisfied.
thank you to all of my fabulous clients who believe in me on a regular basis, i am forever grateful.
xo, PG